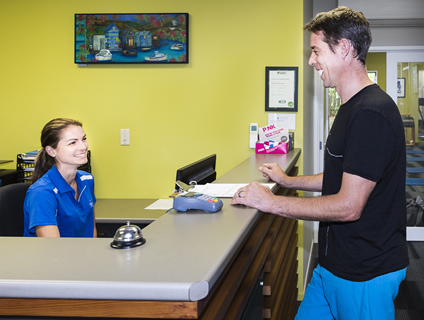 Welcome to Te Ngae Physiotherapy and Pilates, we would like to take this opportunity to thank you for choosing our practice and to tell you about the services we provide.
Physiotherapy services involve the use of hands on techniques, education and exercise prescription to assist in the treatment of a variety of conditions that affect the muscles, bones, ligaments and joints of the body (musculo-skeletal system). Treatment starts with a thorough assessment which is needed to establish a firm diagnosis.
Once a diagnosis is confirmed your physiotherapist will explain your condition and help establish a treatment plan including goals to get you back up and running again. Sometimes a diagnosis is not enough and your physiotherapist will ask you additional questions or perform extra tests to investigate the predisposing factors behind your injury. This is particularly important when your injury has come on gradually and is not the result of one specific traumatic event. Your physiotherapist is also an expert in posture, biomechanics, muscle imbalance and repetitive movements that can all contribute to injury.
Treatment typically starts once a diagnosis is confirmed and other contributing factors have been investigated. Often treatment techniques such as joint mobilization, massage and stretching will be used to loosen up tight muscles and joints, in addition acupuncture and electrotherapy techniques may be used for pain relief. As part of your treatment you will be given home exercises often with a strengthening or stretch component. These exercises are crucial to your rehabilitation and will work together with your physiotherapy sessions to optimize your recovery. Your physiotherapist may also talk to you about ergonomics or changing your posture, lifestyle or movement habits again to optimize your recovery and to prevent relapses. It is important that you understand how your exercises relate to your injury and incorporate them as well as your physiotherapists advice into your daily life.
Identifying your areas of weakness, working hard to correct them and then changing the habits that have caused them are the keys to rehabilitation of long term problems.
Remember the best person to fix your body is you, your physiotherapist is there to teach you how and guide you through the process.
Liaison
At Te Ngae Physiotherapy and Pilates we recognize that different health care professions have different skills and areas of expertise that may aid your recovery.
We often work together with other health care professionals as well as accepting referrals and referring onward when appropriate. We believe that this multi-disciplinary approach provides the best standard of care and outcomes for our patients. It is our policy that your doctor is informed of any changes in care or onward referrals, in addition at the completion of your treatment a discharge summary will be sent to your doctor to update them on your progress.
Patient Rights
All our assessments and treatments comply with the Code of Health and Disability Consumer Rights.
A detailed brochure outlining these is available from your Physiotherapist.
You are welcome to bring a support person or whanau to your treatment sessions and interpreter services are available on request. Please do not hesitate to ask if you are unsure or concerned about any aspect of our service.
Compliments, Complaints Or Suggestions
Any feedback regarding your care can be left in our comments box in reception
or for a formal complaint please contact a local health advocate at The Health and Disability Commissioner's office.
A second opinion is always available if you wish or if recommended by your Physiotherapist.
Car Parking
Ample parking is available in front of the building in the Redwood Centre.