WORKING TOWARDS A PREDATOR-FREE FOREST.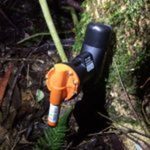 New sponsored trap line set up in the Redwoods as some of the first steps towards getting the birds back into this amazing play ground.
Thanks to Anthony, Red Stag Timber and the Trails Trust for their support. Hopefully this will inspire more to follow. If this sounds like something you'd interested in, either in purchasing the traps (corporate sponsorship) or in clearing and maintaining a line (volunteers) then email us at admin@tengaephysio.co.nz and we will put you in touch with the right people.